Selling A Beautiful Home – Several Reasons to Buy It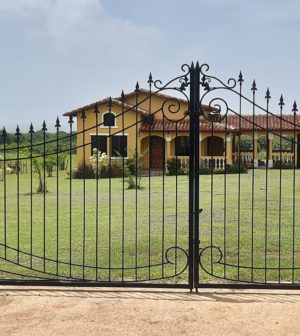 By Darrell Bushnell
Casa Cielita  
This charming home located just one mile from Granada, with great views of the city, Lake Cocibolca and Mombacho features 2 bedrooms with built-in closets, full bath w/walk-in shower, granite counter tops, designer ceramic tile, 1/2 bath, large kitchen w/granite counter tops, under cabinet lighting, large sala, 1/2 wrap porch, large covered patio and a garage all on one acre lot for $129,000. Room for animals or master garden.This is a new home with A/C in BRs, hot water system, water filtration, fully fenced property with some trees and landscaping.
You will be amazed by the cooling breezes and the starry nights. Located in the Los Balcones neighborhood just 2 km from Carreterra Masaya near Japanese Hospital. Sellers ready to negotiate.
Ok, the first couple paragraphs are the usual real estate info ad that will try to sell a home or property. But let's delve into so many other reasons you should be considering this home.
The Neighborhood and Neighbors
Los Balcones is the name of the neighborhood. It is actually a relatively new community. Amy and I built the first house here but now there are eight beautiful homes each unique in size and architecture. Perhaps the name "Los Balcones" is scaring you away from buying here and we understand, we don't like the name either. The original owner of the land named it but if you buy one of the remaining homes, we will take a community vote and see about changing the name. Your name suggestions are welcome.
If you buy this house you will be between the Aadnoys and the Heds. Willy and Marlene Aadnoy are two of the calmest people you will ever meet. I don't think there has ever been a word of argument between them. Willy was voted calmest man in the neighborhood two years in a row. The Heds are a younger couple who are a expat rarity here – not retired. They are into sports, social events and he still works for a living. I remember that life vaguely. Both couples are really into landscaping so I should warn you that you might have trouble keeping up. The good news is that your spacious acre lot is separated from your neighbors by a post and barb-wired fence. Thus there is no blocking of the view of their lots meaning as they plant trees, shrubs, cactus and flowers along the side fences, their landscaping will actually look like it is on your side of the fence too. Think of the landscaping costs and work this could save you.
Your Dog(s)
If you have had a face to furry face conversation with your dog lately you will find they would tell you they enjoy country living over living in a high-walled city colonial home. You may have noticed that your dog spends a lot of time at the door with his/her face pressed against the porton wanting to run free instead of between concrete walls. Dogs talk to other dogs and they are aware that you could buy a home where they can chase cows, horses and an occasional motorcycle. A recent survey of dogs in the Granada area showed that only one in ten dogs prefer to live in the city. Think about how happy your dog would be living in the country yet only a few minutes from a store that sells dog food. Buying this home would make your dog very happy and probably extend his life with the proper exercise a dog needs. Wouldn't you rather have a happy dog?
History of the Lot
The land that this house is built on is millions of years old. Think of the history of the land. The indigenous people of Nicaragua lived here before the Spanish arrived and some of their simple homes probably were where your new home is. You might find pre-Colombian artifacts, earthen bowls or even heathen ritual objects to increase virility. All this may be a few feet below your new lawn. No one really knows when humans first arrived in Central America, perhaps monkeys first climbed down from the trees to walk on two feet here. About a mile away, near the Laguna Apoyo, we have howler monkeys and we still don't know what they are howling about. Even earlier, dinosaurs probably roamed across your lot on their way to get water from Lago Cocibolca. Imagine battles between huge land creatures and gigantic flying reptiles possibly right on your lot. We had the soil tested by radiometric dating and scientists have verified that the land is truly millions of years old. With all this history, we still are selling the house far below market value.
Colonial Living vs Country Living
We lived in a Granada colonial home for 8 1/2 years and enjoyed it very much. It was so convenient walking everywhere within minutes. And then, one day I was walking my dogs and I saw the sun rise and I knew I was missing something. A few days later, another sign came to me. I was walking my dogs in the late afternoon and I saw the sun setting in a riot of colors. Sitting in my colonial home with its 20 foot walls I thought to myself, I can't ever see the sun rise or set unless I scale the walls and sit on the roof like the roof cats so prevalent in Granada. I thought about building a mirador but what a hassle, the cost, neighbors complaining, paying off city officials to allow the building of it, etc.
Amy loved living in town since she could easily walk to her art studio but in our many decades together, she was never a morning person. When we moved to the country she became a morning person, having coffee while watching the sun rise over Granada. If moving to the country can bring about such a radical change in Amy then think what a personality change might occur to you if you bought this house. Yet we are only one mile from Granada.
It is so quiet out here. The loudest noise is the croaking of the toads and frogs gathering around our pool. We do have a dog that sleeps with us that snores but I am considering buying one of those nasal devices for her that seem to work so well on wives. There are constant breezes here since there are no buildings blocking the wind. You can see storms coming from 50 miles away over the lake. We are about 400 feet higher in elevation than Granada. From your patio you can see all six major churches in Granada, the entire lake, most of the islands, looming Mombacho and several volcanoes including those on Ometepe. All of this is included in the price of this fine home.
The Name of the House
As you know, the name of the house is Casa Cielita and a house named Casa Cielita is worth the price of the home in itself. The root of the word is cielo which can mean sky or heaven. Cielita is used for many meanings such as sweetheart, honey, my love, my darling and so on, literally meaning little heaven. A common saying here is Te quiero mucho, mi cielo (I love you very much, my darling) and if you buy this home you can come home, lay in the hammock and say Te quiero mucho, mi Casa Cielita. Say it ten times, cielita, cielita, cielita, etc. It just rolls off your tongue. Sooooo….., you can actually own a home named Casa Cielita and literally mean that you own a little piece of heaven. Your friends will be so jealous.
Security, Solitude and Serendipity
It really is a cute home with a patio to die for yet a spacious lot where you can build that ranchito for BBQs. Water and electrical connections are already there if you want to add a pool. Frankly, I don't know how people live in Nicaragua without a pool. All house doors and windows are covered by beautiful portones yet rugged enough to keep out rapists, murderers, car salesmen and pirates.
The one acre lot has plenty of space for the vegetable garden you have always wanted or for a few peacocks to graze. We have good neighbors which is what makes a good community. The bad news is that you will live across the street from Amy and me but I promise to keep Amy under control.
Consider buying this home, the price is not even worth discussing. If not for you or your wife, think about your dog.
Call 8616-7322 or email [email protected]