The Rise and Fall of Seaside Mariana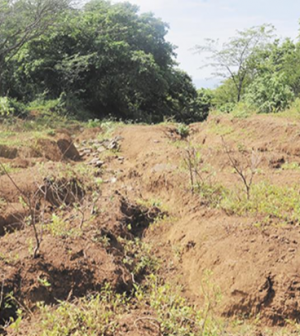 Photo from La Prensa
Land taxes and DGI taxes on Seaside Mariana have been outstanding for nearly 8 years. And the Jack Nicklaus golf course and Wyndham Hotel are distant memories of things which never came to fruition. Endorsements of many large partners including major Nicaragua partners have also been withdrawn.  There are legal actions pending against the project and the Flemings who left Nicaragua in 2013 and never returned. The 5% of all sales promised to help local communities never happened.
In 2006 we made a bad decision to invest in property that was supposed to be developed by Kevin Fleming with his Grupo Mariana corporation. It was our fault for poor due diligence thinking that someone with no experience could do a major development. What can we say? This was during the peak years of Nicaragua becoming the next Costa Rica and we believed the sales pitch. Investments always involve risk. Seaside Mariana looked like a great deal in 2006 but is now or still an empty tract of land along the ocean.
Seaside Mariana, just south of Pochomil, was going to be the flagship of the many planned Mariana projects in Nicaragua. By 2008 we knew we were in trouble when no model homes were being built, titles could not be issued, master plans were constantly changing and no infrastructure except one well and a few dirt roads. We held on and even supported the project not due to any belief that Seaside Mariana would be developed by Kevin but in the hopes that new investors, partners or developers would take over the project and somehow save it.
A few owners still hope a miracle will occur and Seaside Mariana will rise from the ashes. Some owners still mistakenly believe that it was the economic downturns of late 2006 and 2008 that stopped the project. It has now been 10 years and there is still nothing there though many developments in Nicaragua made it through the economic downturns and are flourishing today. The size of available land in Seaside Mariana is much smaller now due to one of the investors successfully settling disputes with Kevin. The investor received a large chunk of Seaside Mariana land in the settlement.
The Flemings left Nicaragua several years ago and have not returned yet continue to try to sell and promote Seaside Mariana though little remains due to the settlement with the investor and of course, all the sales to owners of which many if not most cannot get title. Even now we hope some miracle will occur that would save even a portion of our investment but it is probably not economically or financially feasible.
In Kevin's June 2016 newsletter the Flemings state:
"Construction is ready to begin at our beachfront resorts. After years of planning and design, our communities are ready to rise, and Kevin and I couldn't be more excited. Dedication to making a difference in this country is what brought our family to Nicaragua in the first place. Dedication to seeing that difference realized is what will ensure success in the future."
The above statement has been issued for so many years even after the Flemings left Nicaragua several years ago. Visit the Seaside Mariana site and you will clearly see there is no development.
We have lived in Nicaragua for 10 years and are quite happy with our lives here. It is a beautiful country and we hope you will visit or consider moving here. Seaside Mariana is an exception to the many fine developments flourishing here.
People ask why we have decided to finally publish this article. We like Nicaragua very much and people looking to move to Nicaragua need to be aware of any issues when deciding where to live. The Flemings should not have republished endorsements made many years ago by many people now knowing their investments are probably lost.
You need to do your own research and due diligence but we cannot in any way recommend Grupo Mariana and their associated projects. Anyone who reads this and is curious to know the validity of the above can search the public land registry.
This fairy tale will not have a happy ending.
Amy and Darrell Bushnell
Granada, Nicaragua
P.S. and this photo is over 5 years old. It is worse now.