Costa Rica Border Run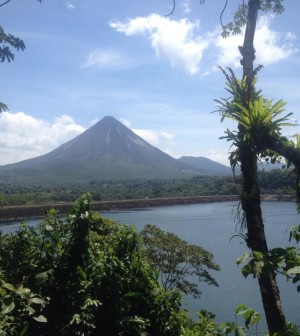 By Jason Mueller
So you have decided to move to Nicaragua, packed up all your belongings and shipped them along with your vehicle to your new home in the land of the Nico's.  This will be the story for a lot of the people reading this article.  You should already know by now that you are only allowed to stay in Nicaragua with a tourist card for 90 days, there are taxes that need to be paid upon exiting and that you may apply for an extension but let's assume you would rather take a little vacation away from paradise to another paradise down south.   Costa Rica will be the most popular country to make a border run and it is certainly a lot safer than Honduras.  The country has been named the happiest place to live from studies but the living costs in Costa Rica are more than in Nicaragua.  Having such a beautiful country to the south makes having to do a border run is not so bad.  If you have been doing this process for an extended period of time you know it can become a pain in the butt so you will want to get your residency.
If you can afford it, flying would be the preferred way and Nature Air offers a short 1 hour flight from Managua to San José and also Copa Airlines offers flights to San José and Liberia but the prices are almost double to Liberia, to fly to the closer destination you have to make a stop and it will take at least 3 hours.  A great tool to use for finding the cheapest flights is Google flights, it searches the web for all the flight options and lays it all out on an easy to understand platform.  San José is obviously the better decision if you plan to fly.  Once you arrive in San José renting a car to go see many of the beautiful locations Costa Rica has to offer is the best option but catching a taxi to Jaco, the closest beach town is a great option for a short holiday/visa run.
The asking price for taxi is around $120 but you can usually negotiate $100 if you walk just outside of the airport and talk with some of the other taxis that don't have the proper permits to be inside the airport but you may be able to negotiate the deal inside the pick-up area.  There are also very cheap buses to get to Jaco, from Alajuela where Juan Santamaría International Airport is located you find the bus stop just outside the airport, you have to catch the bus to the central San José 7-10 terminal and then catch a bus to Jaco.  If you get lucky and time it all right it should only take about 2 hours but depending on how you catch the bus to Jaco it could take longer, the total cost will be around $7.
View of Jaco from Miro Mountain
San José to Jaco Bus Schedule
Monday -Thursday:
7:00 AM, 9:00 AM, 11:00 AM, 1:00 PM, 3:00 PM, 5:00 PM, 7:00 PM
Friday:
7:00 AM, 9:00 AM, 11:00 AM, 12,00 PM, 1:00 PM, 2:00 PM,  3:00 PM, 4:00 PM. 5:00 PM,  6:00 PM,  7:00 PM*
Saturday:
6:00 AM, 7:00 AM, 8:00 AM, 9:00 AM, 10:00 AM, 11:00 AM, 12,00 PM, 1:00 PM, 2:00 PM,  3:00 PM, 4:00 PM. 5:00 PM,  6:00 PM,  7:00 PM*
Sunday:
6:00 AM, 7:00 AM, 8:00 AM, 9:00 AM, 11:00 AM, 1:00 PM, 2:00 PM,  3:00 PM, 4:00 PM. 5:00 PM,  6:00 PM,  7:00 PM*
Jaco is a tourist town that has lots of options for hotels, shopping, dining and tours for everyone.  Costa Rica is known for the adventure type outdoor activities and Jaco has lots to offer such as canopy tours, ATVs, fishing, wildlife tours, waterfall tours, horseback tours, kayaking, neo-fauna and a ropes course is the newest activity in Jaco.  The surfing is good in Jaco but even better is close by Playa Hermosa and some close by areas to lodge or just hang out for the day are beautiful Playa Blanca, Manuel Antonio National Park is a must at some point in your life, you can also catch a boat over to Tortuga Island. Keep in mind that when you fly out of Costa Rica you will have to pay a $29 departure tax.
Arenal Volca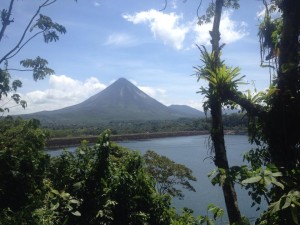 no
For most, the flying option will be out of the budget so catching a bus will be the best option and a cheap one at that.  The exit tax is also cheaper if you go by land, only $7.  You will find information on the buses operating in Nicaragua here.  You can use the Transnica and Tica bus options which offer comfort and speed at a price or use some of the other buses that are cheaper.  No matter where you are coming from in Nicaragua you will make your way to Rivas and from there down to Peñas Blanca Costa Rica which is 35 km away.
Be warned that you may have to show proof of onward travel exiting Costa Rica, you may need to show proof of an airline ticket or bus ticket leaving the country.  This is enforced more at airports than ground crossings but it is still advised to have your proof of exit.  All buses will lead to Liberia where you can find buses that will take you all over the country.  For most, this will be a short visa run so the best beach locations to visit that are relatively close are Tamarindo, Playa del Coco and Playa Flamingo.  If you are looking for a mountain get away with cooler climates then take a bus to La Fortuna where you will find Arenal Volcano.
Jason Mueller   [email protected]