Doggy Lake Day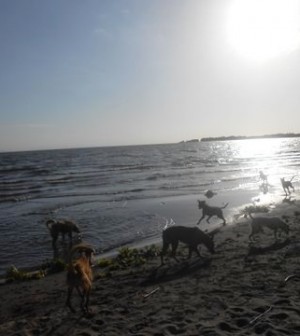 It's great to start your day with a laugh and last Friday morning certainly filled that bill!
At 7 am a group of dog walkers gathered at GAO (Granada Animal Outreach), an NGO that cares for fortunate rescue dogs from the
area.  The dogs are taken in, brought back to health (often from the brink of death), sterilized and fostered until adoption.  Imagine
being confined to a small area by necessity and then about 10 kind souls arrive with leashes and, WOW!, we're going for a long walk to the  lake and if behavior warrants, allowed to RUN free for a bit!!
Some of the walkers are skilled enough to walk a large group of dogs at one time.  We are fortunate to have Chris, dog trainer and
whisperer and his lovely assistant, Bertina, in Granada to assist in the transformation from street dog to mannered house pet.  These
rescued dogs often lead pitiful lives, scraping for every morsel of food and fearing humans.  You can see Bertina's popularity as the
whole group sits at attention at her feet–Ok, the treats don't hurt.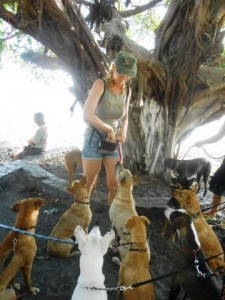 I don't know who had a better time: the dogs, "grinning" from ear to ear, running full out, splashing in the lake, retrieving coconuts.
wildly chasing each other OR ME, who couldn't stop laughing at the antics and their joy!!!
Chris and Bertina do private training and "dog exhaustion" (walks), GAO will soon merge with Fundacion Adan, another great rescue group and you would be welcome as a foster or adoption "parent".  Come take a leash with a wonderful dog at the end and join the "romp" Friday mornings.
Kit Cooper