Give A Dog A Chance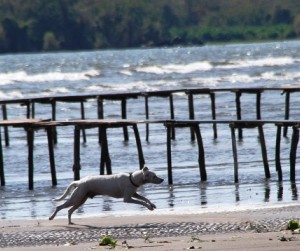 It was about two years ago when Toby was found at Lake Nicaragua.  Looking more dead than alive, he was a bad case, an emaciated dog and nearly hairless from severe mange, wounds and scratches covered his body due to all his scratching.  He was rescued.  No one knows his history or the deep emotional scars he carried with him.  For his first two months in rescue care he would sleep and not leave his small kennel.  His health improved, but his behavior was guarded, shy and unsure.  It took six months for Toby to allow his caretaker to get close to him and eight months until she could pet him.  
Things continued to get better and he slowly learned to trust and even give a tail wag now and then.  We learned that he fully approves of head scratches and he takes comfort in his doggy friends.
Granada's dog training team decided it was time for Toby to shine, to learn how to be a dog.  First lesson: leash training.  It didn't go so well, he wouldn't move and he returned with bloody paws in protest of this activity.  The training team would not give in, they had to push Toby past this wall to be able to achieve even more.
Fast forward six months.  Although still shy, Toby has undergone an incredible transformation.  He enjoys walking on a leash, with or without the pack.  He allows us to bathe him and administer medication.  He has been on sleepovers, he has a new cat friend and he has been known to hang out at Expressionista with the coffee crowd.
Toby has been in rescue for a long, long time and we hope he can find a permanent home.  He has an easygoing attitude, is alert and protective, unassuming and easy to care for.  He gets along well with other dogs.  He would do best in a home with experienced dog owners and with a person or family who will continue to work with him.
Give a dog a chance and amazing things can happen.
Jennifer Jurgens
For more information about Toby or our other dogs available for adoption, please visit:
www.GranadaAnimalOutreach.org